Pargol Samani, MD, FACC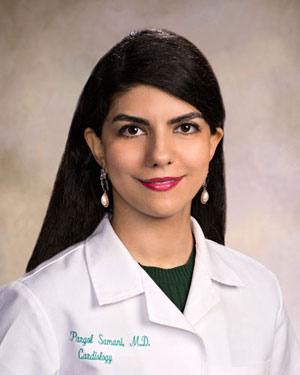 Dr. Pargol Samani is a cardiologist who completed her fellowship in cardiovascular disease at Kettering Medical Center in Ohio. Dr. Samani is board certified in internal medicine, cardiovascular disease, adult echocardiography and nuclear cardiology. Prior to her fellowship, she completed two years of postdoctoral research fellowship in cardiovascular research department at UCLA. Dr. Samani also specializes in cardiac procedures including coronary angiography, pacemaker placement, implantable loop recorder insertion, transesophageal echocardiographic, and electrical cardioversion.
Dr. Samani's special interests include the prevention of heart disease, as well as the treatment of hypertensive heart disorder, hyperlipidemia, coronary artery disease, congestive heart failure, valvular heart disease, and cardiac arrhythmia. Her goal is to provide thorough and advanced heart care to every individual by prevention and treatment of cardiovascular disease.
Dr. Samani listens carefully to every single patient, and she looks at the patient's whole health status and well-being and she strives to meet all the short and long-term health plans for her patients. She goes above and beyond to ensure all of her patient's questions and concerns have been addressed and her patients receive the highest quality of care possible.
Certifications
Adult Echocardiography: National Board of Echocardiography, Inc. (NBE)
Nuclear Cardiology: Certification Board of Nuclear Cardiology (CBNC)
Cardiovascular Disease: American Board of Internal Medicine (ABIM)
Internal Medicine: American Board of Internal Medicine (ABIM)
Education
Fellowship in Cardiovascular Disease: Kettering Medical Center
Fellowship in Cardiovascular Research: University of California, Los Angeles (UCLA)
Residency: Wayne State University, Internal Medicine
Medical School: Isfahan University
Professional Organizations & Affiliations
Hospital Privileges
Dr. Samani has hospital privileges to perform cardiac procedures, which include:
Cardiac catheterization
Pacemaker insertion
Transesophageal echocardiogram
Loop recorder implantation
Cardioversion
Dr. Samani has hospital privileges at the following San Diego area hospitals.